SERVICE
Our services for you


On these pages you'll find information on events regarding historical shares, forms to request our free catalogs and much more...


> EVENT CALENDAR
Events regarding historical shares

> ORDER FREE CATALOG
Order our free printed catalogs now!

> OFFERING SHARE
We're buying your old shares!

> SEARCHING SHARES?
Let us help you!


If you need further information, please
don't hesitate to contact us:

> CONTACT










North American Edison Co.


Metall-, Walz- und Plattierwerke Hindrichs-Auffermann AG


Königsbacher Brauerei AG vorm. Jos. Thillmann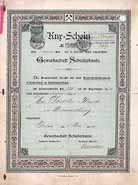 Gewerkschaft Schieferkaute